Guest post by Ashley Taylor
Like previous guest blogger
Michael Oghia
, I too am an unemployed, educated 20-something. Now, I'm not trying to question the credibility of higher education; it has its place and certainly has opened a door or two for me. However, it certainly hasn't done much for my financial situation.
I've acquired internships, but all are unpaid, leaving me to pay the bills in unusual ways. The way I see it, college grads don't have much choice besides either moving in with mom and dad to save money or struggling on their own while slaving away at multiple jobs; neither of which leaves much room for personal growth. There's always the grad school route, but that comes with the pressures of debt only adding to the trillions America owes already. Plus, after 16 years of schooling continuing students are beginning to burn out if not burnt out already.
I was one of these burnouts. By the time my graduation day rolled around I knew I was done with school. That's when I opted for the new alternative more and more college grads are pursuing: jumping the country. You, heard me right; jump the country, cross the border, shift paradigms, get the frick out! My original plan was to take a 3-month gap summer on an island in Central America getting my Divemaster certification and teaching Scuba to tourists as a way of recharging my batteries after University. I was certain, after 3 months on an island, I would be ready to come back to America and reinstate myself in the workforce as a productive member of society. I couldn't have been more naïve.
Every day on The Island was an adventure. My office was a white sand beach with turquoise waters. Business attire was a tan, salted hair and a bikini. Evenings weren't spent in front of the TV, but rather talking with friends and strangers alike over a couple beers under a star-studded sky while tropical breezes and live music beckoned you to dance. I returned to The States refreshed. Depressed for leaving behind paradise, but ready to be responsible in the Real World. I filled out countless applications and attended a few interviews, but only received rejection in return. I was overwhelmed and honestly baffled, as I attended a top school, got good grades, was involved in college and hold a solid portfolio accompanied by solid internships. I did my research and discovered that, according to statistics, nearly half of American college graduates are stuck rowing this sinking ship that is the U.S.S. Unemployed. Furthermore, the 50% that do have jobs are employed in positions that don't even require a degree. Combined with the nation's high unemployment rate it's easy to realize that recent grads have it a bit tougher than those who graduated at the height of the New Millennium. My parents' advice, get a job at Starbucks and stick it out. That's what I would've done, but after the personal growth I experienced over the summer traveling I could no longer accept it as an option.
After 4 months of job hunting, and cleaning bathrooms at a taco shop in the meantime, I scraped up enough money for a ticket back to The Island for a 2 week head-clearing. "Is that all you're bringing? A duffle bag and dive gear?" my father asked me on the way to drop me off at the airport. "Yes." "How much money?" I peaked into my wallet, "$50 US and about $20 in the local foreign currency." "Where will you be staying and working?" he probed out of concern. "I don't know. I'll figure it out when I get there." He silently held his breath for a few seconds, probably debating what a good father would do in this situation. Should he turn around and keep me safely in his reach or let me go out and experience the world? In the end, he did not turn around at the next highway exit, but continued to the airport, "Ok, I trust you." My plane touched down at 2:15pm. By 5:30pm I not only had a place to stay, but work lined up for the entirety of my "vacation," and a beer in my hand as I watched the sunset with people I counted as family. Once again, every day was an adventure; I was meeting interesting people and experiencing wonders most only dream about. On top of that, I was making a living doing something I loved!
At the end of the 2 weeks I called my family to ask permission to stay. Being the amazing people they are my parents fully supported me. Traveling is unconventional and requires a bit of bravery, but the benefits far outweigh the bit of sacrifice it requires. Depending on where you go and what you do, it's generally cheaper to live and the support system of a small community is comparable to that of an extended family. My last bit of advice: start small. This wasn't my first bout at solo travel and I would never encourage anyone to just toss a dart at a map and move there. Long-term travel is a ladder and you have to learn to crawl before you can walk, much less climb. Take it one step at a time, stay flexible in your mind-set and don't look back; you'll never regret it.
Ashley Taylor is a 20-something graduate from the University of Florida. Growing up in a family that valued travel over most other things, it was only a matter of time before she set out to explore the world by herself. Solo travel experiences include: front row seats at Old Trafford, riding bikes through Paris at 4am, going through a hurricane and earthquake at the same time in a third world country, and dancing with Jake Gyllenhaal in New Orleans. Currently she works as a Divemaster in Roatan, Honduras, and couldn't be happier. E-mail at
amtayla@gmail.com
for any and all freelance writing opportunities.
If you like this post, SUBSCRIBE to receive updates via email!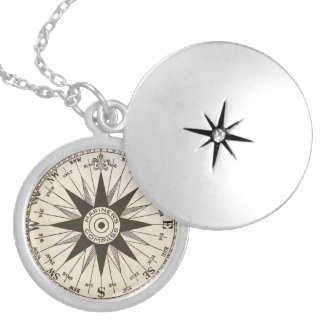 Vintage Compass Rose Necklace
by
JoyMerrymanStore
Design your own
personalized silver necklaces
Passport Stamps - Style 6 Business Card Template
by
fireflidesigns
Browse more Passport Business Cards at
Zazzle